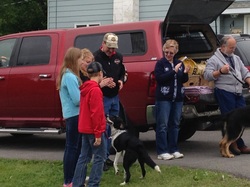 Graduation Day at Mountainview Preserve for dogs and owners that took the Group Basic Obedience Class in the Summer of 2014. Basic Group Obedience includes lessons in Heel, Come, Sit, Stay, Down, Sit to Down and Down to Sit. Frank gives practical instructions on appropriate collars and leads. Advanced Group obedience involves off-lead work. We also tailor the lessons to include specific issues that owners may be having with their dogs.

Mountainview Preserve also offers private lessons at your house or ours.


---
Mountainview offers Group and Single Class obedience training. We also offer Hunter's training days on specific weekends and boarding for clients (that have taken our obedience classes) who wish to have dogs trained in hunting techniques. These classes and training days are run by the President of Mountainview, Frank Cavalieri. Frank worked on Suffolk County's K-9 Unit training the police dogs for the riggers of intense street work. There, he learned the concepts of obedience and control, under the most extreme and challenging conditions. Since then, breeding and raising the classic, energetic German Shorthaired Pointers, he's brilliantly brought many dogs to the Master Hunter level in competitive Hunt Testing. Our dogs have won awards in many Field Trials, Retrieving Dog and NAVHDA Titles. He's also an active AKC judge for Hunt Tests and Field Trials.